Adult Music Lessons
Adult Music Lessons available at Parramatta, Chatswood, Burwood, Bella Vista, Epping and George St Sydney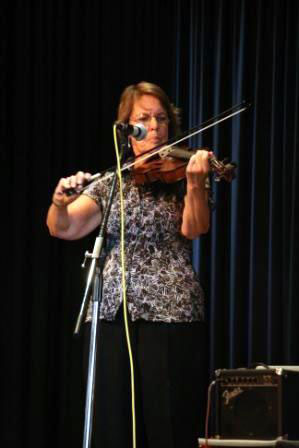 Beverley, mature aged, but young at heart violin student
performing at our Shine Music School Concert
The top 5 most important things about adult music lessons:
Don't call us if you do not have all five of those important things if you are an adult keen on learning an instrument! If you have all five points in the above, we would love to meet you!
For all those who don't have all of the above five points, then if you really love music, just keep listening or watching somebody else play it until you are able to satisfy the above five points that will make a successful adult music student attending music lessons.
Have the correct attitude to learning an instrument

The correct attitude any adult who wants to take on a musical instrument is that they will commit themselves to practicing everyday for at least 20 minutes for the next 3 years. This is what it takes to be successful at any instrument and it definitely does not happen over night.

It will take at least a year of learning before you can show off to your friends, and a lot of pain and over coming resistance in the first few weeks since as an adult, why would anybody want to sound horrible at anything! The truth is that every beginner piano student, or violin student, saxophone student, etc sounded very basic the first time they learnt.

The only difference is that a child learning the instrument for the first time won't feel embarrassed that they are only playing 'Twinkle Twinkle' where as an adult student attending music lessons might get the urge to go do something else to relieve their discomfort, maybe surf the internet for a while, watch some TV or get a drink of water.

Well for the child they are still in learning mode, where as an adult who is no longer in learning mode and in more self-management mode would prefer to sound fantastic or do things that make them feel absolutely fantastic rather than progressive.

Be absolutely ready to practice everyday

This is not exactly any magic formula, everybody knows it, to be good at an instrument you have to practice everyday. Think of all your favourite musicians or even athletes, they have all trained very hard, everyday, to get where they are. The rest of the people are the ones who gave up, didn't have time, couldn't be bothered, so to be successful you have to practice everyday.

Here is a list of things that most adults do everyday:

Brush their teeth
Eat
Drink
Go to the toilet
Sleep
Shower
Fit in practicing music!

And you will be absolutely fine. If you can't then there will be problems.

Invest in a nice instrument

So apart from singing, for all the other instruments invest in something nice. Don't go out buying the cheapest one to 'see if you are going to practice' Buy a medium range one so that first of it all it sounds and looks beautiful and also that the financial outlay will make you actually practice hard!

Buying something cheap and nasty, will mean that looking at it won't feel so bad. But then buying something shiny will motivate you to practice more! You don't go buying car and thinking that you 'just might drive it'. So the same with instruments, go buy a nice one and think ' I am definitely going to play this at least 7 days a week'.

Clear away all distractions

Make sure you free up the time and space around you to properly practice an instrument. If you are working full time, and also studying a course part time, then chances are you won't have time to practice. If you are in between moving houses or am getting use to a new job, then please make sure you clear away any unnecessary obstacles before you start learning an instrument!

If you finish work at 5pm everyday, have absolutely nothing to do when you go home and don't feel that the TV is attractive to watch after dinner, then learning an instrument is going to be perfect for you! If you have 100 other responsibilities after you finish work, then best to wait for all the responsibilities to clear up so that way you have no distractions to practicing! You need a comfortable 20 minutes, obligation free and guilt free so that you can practice everyday!

Never ever give up!

It is not ok to 'just give it a try for a few lessons'. It is 'I am going to sit down and do my best to be absolutely awesome at this instrument' So you can't give up! Like point number three, invest in a nice instrument so that way you will never ever give up playing, since it is too expensive to do so!

It is not ok to 'I think I'll take a break', it is 'No advanced piano player ever gave up so I'm not going to give up!' Have the right attitude about this, it is definitely one of the most important points to learning an instrument.