Choosing the Right Guitar Teacher for You...
Guitar Lessons Sydney
Shine Music School Parramatta, Chatswood, Burwood, Bella Vista, Epping and George St Sydney consistently delivers better results and more fun for you our students by using advanced teaching techniques and the very best teaching staff
Shine Music Beginner Guitar Lessons Sydney
As a beginner taking guitar lessons, students will learn beginner note reading, beginner guitar rhythm and technique. Once a solid technical foundation has been built, we then explore the different guitar genres available to a guitar player like contemporary, rock, pop, metal, classical, Australian Music Examination Board Exams, musical theatre, jazz, etc.
Students will be able to learn more notes, rhythms and songs in the next few guitar lessons and will learn how to vary the sounds on the guitar. Students will find the beginner stage of the guitar fun, just like learning a new language and full of stories on how their improvement is related to lots of practice and structured homework.
Call us on (02) 9687 9978 or email us at [email protected] to enquire about lessons today!
Intermediate and Advanced Guitar Lessons Sydney
Intermediates who are looking to advance their playing technique and repertoire are advised to fill in the above music lesson survey so that we can receive more information about your current technique, guitar lesson history, and your future goals, exam requirements and performances.
By filling in the above survey we are can ensure we do not waste any time and can move on to technical development exercises in your first class.
Located in Chatswood and Parramatta, Shine Music School has an outstanding record of success with delivering great results for all our guitar students. Our guitar teachers use their university qualifications and performance experience to ensure all guitar students make substantial improvement and learn to enjoy and appreciate the guitar. Just remember, practice makes perfect and at Shine Music School, it is our job to inspire you to practice!
Depending on your individual wants and needs we teach you the following guitar lessons
Beginner Lessons
Electric Guitar
Acoustic guitar
Bass guitar
Classical guitar
Finger picking technique
Mastering Strumming
Lead guitar
Rock guitar
Jazz guitar
Metal guitar
Guitar Improvisation
Guitar theory
Reading music for guitar
Reading guitar tab
Australian Music Examination Board Guitar Exams
Trinity Rockschool Guitar exams
CPM Guitar exams
So Why Choose Shine Music for your Guitar Lessons?
Shine Music School is an amazing fun environment that you will look forward to coming to time and time again as you work towards guitar mastery. Here are 8 great reasons to choose Shine Music for your Guitar lessons
Advanced teaching techniques enabling your to reach faster results and have more fun
One on One lessons for 100% individual attention and personalised progress in the direction that you want to go
Leading Edge Internet Enabled Teaching Studios to allow for us to teach you any song you request
80% of Exam results of A grade or higher
All teachers are tertiary educated and full time music teachers
Walking distance from train station
Sound proof rooms
Free parking
And much, much more...
Meet Your Guitar Lesson Expert Teaching Staff
Daniel Babekuhl, Guitar Teacher
A minor Riff Video

Daniel Babekuhl, Guitar Teacher
Electric Guitar Student Exercise
Daniel
Bachelor of Music
Daniel hails from the small town of Wingham, Northern NSW. Whilst growing up in Wingham, Daniel was able to concentrate his teenage years on perfecting his guitar technique, practicing an average of eight hours a day. His hard work earned him a scholarship studying a Bachelor of Music at the Australian Institute of Music. Daniel is a regular performer at many of Sydney's established venues with his band, The Maladies. Daniel lives and breathes guitar, he is either performing, teaching, practicing and hates wasting time eating. Life does not get more musical.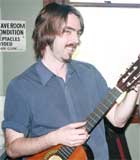 Ben
Bachelor of Music
Ben grew up in Newcastle and now calls Sydney home after graduating with a Bachelor of Music from Newcastle University. Ben is a rare guitarist who is able to teach both high level classical guitar and also anything that is contemporary, rock or jazz. During your first lesson with Ben, it is totally normal that you will be taught how to compose your first piece, imagine composing your first original piece in less than 30 minutes! Apart from just teaching guitar, Ben also provides recording services and is a very keen graphic designer.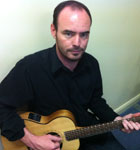 Mitchell
Bachelor of Music
Mitchell is originally from Young and now enjoys living in Sydney, regularly participating in musical productions and other performances. Mitchell loves teaching all styles of guitar, especially to beginner and intermediate students. Ipad apps are a common teaching tool that Mitchell loves to use.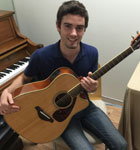 River
Bachelor of Music
River is skilled in both guitar and drums and loves teaching popular tunes to his students. River loves using books with backing tracks to ensure students have plenty of support when practicing at home.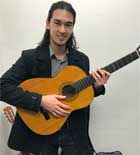 Marlon
Bachelor of Music
Marlon's favorite music genres are rock and grunge and teach all the beginner styles to all aspiring guitar students. During lessons, Marlon loves to play guessing games and short quizzes to help students achieve their technical goals. Outside of teaching, Marlon is in three bands and also enjoys cooking.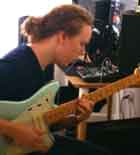 Caelan
Bachelor of Music
Caelan has taught guitar and drums along with performing in many live shows. Caelan has a passion on passing on the best technique for playing both instruments.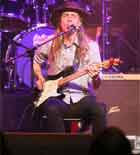 Jared
Bachelor of Music
Jared leads a very musical life. He idolizes all the greatest rock stars and will always bring his guitar on vacation so that he doesn't miss out on practicing 4 hours a day. Jared continues to explore all styles of guitar music available.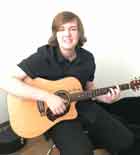 Edwin
Bachelor of Music
Edwin is a teacher of both guitar and drums. His students all enjoys his simplified approach to teaching guitar and drums. In his spare time Edwin enjoys singing in acapella choirs and design.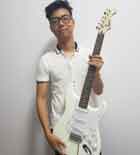 Here's the Most Frequently Asked Questions we receive about the Guitar School
Should students start with electric or acoustic guitar?
What is guitar tab compared to reading music?
How much does the student need to practice?
Should students start with electric or acoustic guitar?
Here at Shine Music School, our guitar teachers are experts at acoustic, classical and electric guitar. Our teachers advise students to start on the instrument they are most likely going to practice more with. Before you make your decision, here are some facts that you may like to consider.
Electric guitar strings are smaller in gauge and strung with less tension than acoustic guitar strings, so it takes less pressure to play the notes. This does make it slightly easier to play. The acoustic guitar causes you to develop strength in your hands and calluses on your fingers faster than an electric guitar. Electric guitar is used more often in rock, metal and pop music.
Almost everything you can do on an electric guitar, you can do on an acoustic guitar. The acoustic guitar is very portable. You can take it anywhere and pretty much play anywhere you like. Acoustic guitar is used more often in classical music and ballads.
Note to parents: When picking out a guitar for your child. Try to realistically assess what they would like best, as opposed to what you would like them to play. They will achieve far more improvement when they are playing the instrument that they like.
What is guitar tab compared to reading music?
In the world of guitars, there are many successful guitarists who can read music and many successful guitarists who cannot read at all. But they can read Tab. Tab is like reading a picture of the guitar on paper. There are 6 lines to go with the 6 strings on the guitar. The numbers on the lines tell you which fret needs to be pressed down. It is fairly simple to read and is used by many teachers. Of course it is extremely advantageous if you can read music staff lines It is slightly more complicated to work out how to play but with regular practice, will become as easy as reading a book.
At Shine Music School, our guitar teachers are well experienced in teaching with music scores and Tab. Please mention whether you have a preference for either system before you commence lessons.
What are music examinations?

Music examinations are a good tool for students who want to continually improve their playing and performance ability and to have their playing ability graded on a recurring basis. Music examinations allow students to grade their performance ability every six months ( certain instruments ), provides goals for students to aim for and provides a professional grading system for students. Shine Music School encourages exams but are not enforced on students. Our primary aim is for students to have fun exploring their chosen instrument.

Students are only encouraged to attempt examinations when they have attained a certain level of competence and ability. At Shine Music School, all our teachers are Australian Music Examinations Board ( AMEB ) , Contemporary Popular Music ( CPM) and Associated Board of the Royal School of Music ( ABRSM UK) registered and we cater for Jazz, Rock, Pop and Classical exams for all instruments.
How much does the student need to practice?

Practicing everyday is the most effective and fastest way of improving your skills as a musician. If you practice only every now and then, your improvement will be inconsistent. Even with just 10 minutes every day, you will notice an improvement week to week. Of course, the longer you practice every day, the better, 30 minutes is a good goal to aim for, as long as it is everyday!
Click here to meet the Guitar teachers at Shine Music School
Your Next Steps
Call us on (02) 9687 9978 to discuss what you would like to learn or achieve with the guitar and we can make sure we are a perfect match for each other with your free lesson. Alternatively enter your details below now and we'll contact you in the next 1-2 business days.