News and Events

Shine Music School now has students enrolled from all over the world with new webcam classes (link the webcam page). Distance is not a problem with Shine Music School. Click here to try your free webcam lesson today!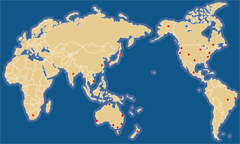 Congratulations to all Shine Music School students who successfully performed at the lobby of the Marriott Courtyard Hotel Parramatta on Thursday night the 5th of July 2007. It was a great night with our students putting on an excellent show for all of the hotel guests and staff. The Marriott Courtyard Hotel Parramatta rewarded all performing students with complimentary refreshments.
Here is what Jason Farnworth the manager of the hotel had to say after the performance:
"It was a pleasure to have Shine Music perform at the Courtyard by Marriott Parramatta last night. Our hotel loves to engage the local community and offer the opportunity to assist the youth in our local area. The artists you had perform for the hotel last night are a credit to Shine Music. The performance was enjoyed by our guests and the team put on a great display of entertainment. Thanks again Shine Music School and I hope that we have the opportunity to assist in exposing more of the area's local talent in the future."
Students who performed on the night included:
| | |
| --- | --- |
| Charles Zhang ( saxophone) | Benton Munro (saxophone) |
| James Laurence ( guitar ) with singing partner Adrianna Musumeci | Jade Miller ( guitar ) |
| Evan Hefer ( clarinet ) Nicholas Kershaw (saxophone) | |
Congratulations and look out for more performance news and opportunities to come.
In the mean time, you can call us on (02) 9687 9978 or email us at [email protected] to enquire about careers at Shine Music School!