Piano Lessons Sydney
Choosing the Right Piano Teacher for You...
Shine Music School Parramatta, Chatswood, Burwood, Bella Vista, Epping and George St Sydney consistently delivers better results and more fun for you our students by using advanced teaching techniques and the very best teaching staff
Shine Music Beginner Piano Lessons Sydney
As a beginner taking piano lessons, students will learn beginner note reading, beginner piano rhythm and technique. Once a solid technical foundation has been built, we then explore the different piano genres available to a piano player like contemporary, classical, Australian Music Examination Board Exams, musical theatre, jazz, etc.
Students will be able to learn more notes, rhythms and songs in the next few piano lessons and will learn how to vary the sounds on the piano. Students will find the beginner stage of the piano fun, just like learning a new language and full of stories on how their improvement is related to lots of practice and structured homework.
Call us on (02) 9687 9978 or email us at [email protected] to enquire about lessons today!
Intermediate and Advanced Piano Lessons Sydney
Intermediates who are looking to advance their playing technique and repertoire are advised to fill in the above music lesson survey so that we can receive more information about your current technique, piano lesson history, and your future goals, exam requirements and performances.
By filling in the above survey we are can ensure we do not waste any time and can move on to technical development exercises in your first class.
Located in Chatswood and Parramatta, Shine Music School has an outstanding record of success with delivering great results for all our piano students. Our piano teachers use their university qualifications and performance experience to ensure all piano students make substantial improvement and learn to enjoy and appreciate the piano.
With advanced multimedia facilities in each piano room along with boundless performance and examination possibilities, Shine Music School ensures every piano student receives overwhelming support to help them reach their highest potential. We teach piano students from as young as three up to as young as 95 so it is never too late to start learning. All classes are one on classes, so each lesson is tailored specifically to each student's skill level and individual learning desires. Just remember, practice makes perfect and at Shine Music School, it is our job to inspire you to practice!
Depending on you or your child's individual wants and needs we teach you the following piano lessons
Beginner Piano Lessons
Adult piano lessons
Young beginner piano lessons
Reading music for piano
Piano scales
Intermediate piano technique
Piano exam preparation
Contemporary piano (all your favourite chart topping artists are printed out with ease!)
Classical piano
Jazz piano
Piano for leisure syllabus
Piano improvisation
Australian Music Examinations Board Piano preparation
AMEB Piano preparation
Trinity Piano preparation
ABRSM Piano prepration
Piano theory
Diploma level piano lessons
So Why Choose Shine Music for Piano Lessons?
Shine Music School is an amazing fun environment that you or your child will look forward to coming to time and time again as you or your child work towards piano mastery. Here are great reasons to choose Shine Music for your piano lessons in Sydney.
Advanced teaching techniques enabling you or your child to reach faster results and have more fun
One on One lessons for 100% individual attention and personalised progress in the direction that you want to go
Leading edge internet enabled teaching studios to allow for us to teach you and your child and song you request
100% A grading or higher in our 2011 1st metropolitan piano exams
All teachers are tertiary educated and full time music teachers
Walking distance from train station
Sound proof rooms
Free parking
And much, much more...
Meet your Piano Lesson Expert Teaching Staff
Claire
Bachlelor of Music Performance
Claire comes from a very musical family in Adelaide. Both Claire's parents are piano teachers and so there was only career in mind for Claire from the time she could sit up and talk. Claire loves teaching both contemporary and classical music to both beginners and adults. Despite Claire's wide teaching style, she has a very defined teaching philosophy of ' Real piano players play classical music'.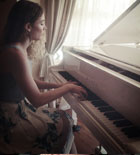 Ashleigh
Bachlelor of Music Performance
Ashleigh is a piano teacher who loves to have fun with her students. You can often here her students clapping away during class and enjoying themselves! Skilled in teaching both contemporary and classical piano Ashleigh also enjoys making sure that homework is fun to complete at home, so the joy of piano always continues.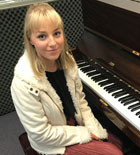 Gina
Postgraduate Diploma of Music Performance
Gina has attained her Postgraduate Diploma of Music Performance, specializing in the field of classical piano repertoire. She aims to provide her students with information and knowledge of music, guiding them to achieve their best outcomes. As a teacher she aims to create a safe and creative learning environment where students can express themselves freely, allowing them to grow not only as a pianist, but as an artist.
Anna
Bachelor of Music (Performance)
Anna is a piano teacher who also love to work out. She loves the gym and still plays Oz tag. Anna focuses on piano playing technique and note reading to ensure students build the correct foundations to enjoying the piano.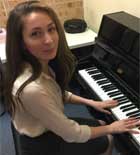 James
Bachelor of Music
James is a composer and a performer. Many students enjoy James' unique approach to teaching music foundations and theory. James also loves to teach jazz and contemporary piano to both beginner and intermediate students.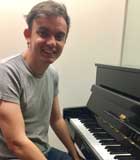 Ruth
Bachelor of Music Performance
Ruth enjoys teaching young beginners using little stories and games to make it lots of fun to learn piano. Another classical enthusiast, Ruth uses all her performance and education skills to create excitement and development for all keen piano students.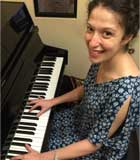 Catherine
Bachelor of Arts - Music Major
Catherine specializes in teaching our beginner piano students using lots of fun games to keep them all motivated. In her spare time Catherine enjoys reading and writing aside from practicing piano.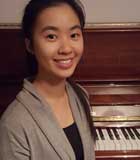 Janet
Bachelor of Music Education
Janet is one of our multi-talented teachers, proficient at both flute and piano. Janet spent some time studying music in Newcastle before coming back to Sydney to focus on teaching and education.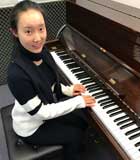 Andrea
Bachelor of Music
Andrea's classical piano studies have taken him from Australia to Milan, Italy. Andrea's teaching philosophy is 'commitment, motivation and a 'firm but fair' approach is vital to a students' growth'. Through this Andrea ensures that all his students have the passion and drive to succeed and develop to their highest potential.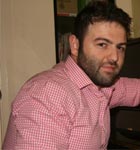 Andrew
Bachelor of Music
Andrew is both a sound technician and a piano teacher. Andrew specializes in both classical and jazz styles so students will always experience a wide range of different genres of music.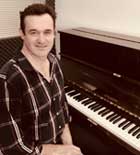 | | |
| --- | --- |
| Will explaining how to practice scales hands together | Will explaining how to read left hand notes |
| | |
Christine
Bachelor of Music
Christine is one of our multi-talented teachers, proficient at both piano and saxophone. Originally from Perth, Christine now calls Sydney home. Lately Christine is involved with conducting and leading orchestras.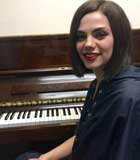 Melinda
Bachelor of Music (Performance)
Melinda is a piano teacher who loves to use a combination of ear training and note reading. Originally from Queensland, Melinda enjoys teaching both contemporary and classical styles to both young beginners and adults.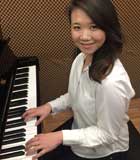 Katie
Bachelor of Education
Katie's piano lessons are always filled with fun and games to help students just love the piano so much more. Katie's enthusiasm always means students always look forward to their lesson every week. Katie also teaches flute.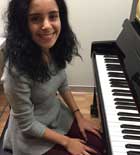 Will
Graduate Diploma of Education, Diploma of Music, Certificate of Music
Will has had experience teaching music in both high schools and studio situation. Trained in classical music, Will's aim in teaching is to expose students to as many forms of music as possible. From blues scales to jazz improvisation and new release pop pieces, Will's students are promised never to be bored from limited repertoire.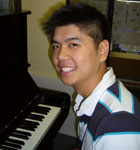 Virginia
Bachelor of Music
Virginia has a long list of teaching experience with the most notable holding a teaching position in both piano and violin at the New England Conservatorium of Music. Virginia is originally from Armidale, northern NSW and has now settled in Sydney, spreading her music teaching wings here. Apart from being a classical music specialist, Virginia loves to explore folk and gypsy music to add new dimensions to both her playing and teaching.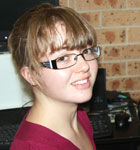 Here's the Most Frequently Asked Questions we receive about the Piano School
Is the piano the best instrument to start with?
Does starting the piano mean purchasing a piano?
Which is the appropriate style that piano students be taught? Popular, Jazz or Classical?
How much does the student need to practice?
When is a child suitable to start piano lessons?
Is the piano the best instrument to start with?
For most musicians, having some piano skills is very helpful. At Shine Music School, we believe there is no reason to begin your music lessons on the piano if this is not the instrument you are most attracted to. What makes for successful music study is long term practice. What makes for successful long-term practice is an interest in the instrument. So if the piano is interesting to you, go ahead and start some lessons. If the piano is not to your liking, it will be more beneficial to start playing an instrument you or the student actually wants to play.

Does starting the piano mean purchasing a piano?
It is a great advantage for piano students to star with pianos as the hammer action of the keys builds the finger strength of the students and provides much stronger technical development. However, spending $2,000 on a piano is not the most appealing prospect.

Keyboards are a more budget friendly and is suitable for beginners to start practicing with. With the intention of purchasing a piano further down the track, cheap keyboards are available. The main thing is that the keyboard you practice with has full sized keys. Teachers will advise parents when the potential of the student has developed past the keyboard. Shine Music School will be able to advise parents of where to purchase pianos that are most suitable for their budget.
Which is the appropriate style that piano students be taught? Popular, Jazz or Classical?
The piano enjoys a status of being the most popular instrument in the world. It is renown for having composers like Beethoven, Mozart and also at the same time being played by pop stars like Delta Goodrem, Alicia Keys and features in many film classics like Titanic, Aladdin and Harry Potter. So with such a wide selection of piano repertoire available, which is best for students learning piano?
At Shine Music School, we recommend the music that the student is inspired by. The music that will make them practice the most. So if the student likes Beethoven, practice Beethoven. If the student likes Disney or Delta Goodrem, practice Disney or Delta Goodrem. If the student likes both, we are more than happy to teach both. Both popular/jazz and classical music requires time, rhythm and note reading skills so they will be building their technique as they learn.
For students who want to complete piano exams, Shine Music School has sourced both classical and jazz exams. Classical and popular exams are facilitated by the Australian Music Examinations Board ( AMEB) and Jazz exams are facilitated by the Associated Board of the Royal School of Music UK ( ABRSM). All are excellent syllabuses and are well balanced to encompass both reading and aural skills. Feel free to call us on (02) 96879978 if you have any questions about any of the piano exams.
How much does the student need to practice?

Practicing everyday is the most effective and fastest way of improving your skills as a musician. If you practice only every now and then, your improvement will be inconsistent. Even with just 10 minutes every day, you will notice an improvement week to week. Of course, the longer you practice every day, the better, 30 minutes is a good goal to aim for, as long as it is everyday!
When is a child suitable to start piano lessons?
At Shine Music School, our youngest piano students start from four and a half years old. To start piano lessons the student must be able to:
Comfortably recite the ABC
Comfortably count to 10
Be able to sit down and focus for at least 20 minutes
Be willing to practice 15 minutes each day
Answer questions like "What comes before the letter C?"
Answer questions like "What comes before the number five?"
In order to allow young students to learn and have fun during class, Shine Music School teachers will use a combination of drawing, writing, playing and clapping to allow the young student to maintain a strong interest throughout class.
Music examinations are a good tool for students who want to continually improve their playing and performance ability and to have their playing ability graded on a recurring basis. Music examinations allow students to grade their performance ability every six months ( certain instruments ), provides goals for students to aim for and provides a professional grading system for students. Shine Music School encourages exams but are not enforced on students. Our primary aim is for students to have fun exploring their chosen instrument.

Students are only encouraged to attempt examinations when they have attained a certain level of competence and ability. At Shine Music School, all our teachers are Australian Music Examinations Board ( AMEB ) , Contemporary Popular Music ( CPM) and Associated Board of the Royal School of Music ( ABRSM UK) registered and we cater for Jazz, Rock, Pop and Classical exams for all instruments.
Click here to meet the Piano teachers at Shine Music School
Your Next Steps
Call us on (02) 9687 9978 to discuss what you would like to learn or achieve with the piano and we can make sure we are a perfect match for each other with your free lesson. Alternatively enter your details below now and we'll contact you in the next 1-2 business days.